ZRX1200 Custom Build Completed!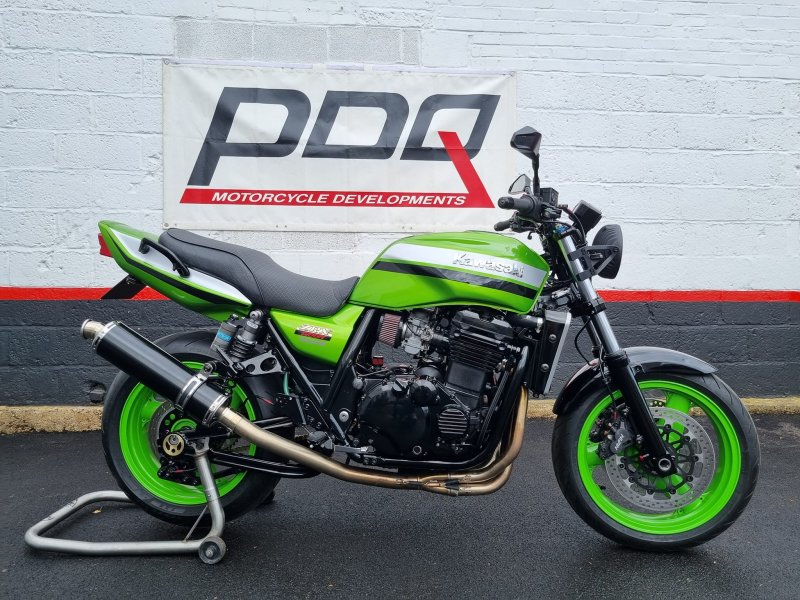 ZRX1200 special build that we have completed for a customer.
It started life as a Blue 1200S. We started by removing the brackets for the fairing and we relocated the paddock stand bobbins on the swingarm to make it more practical, powdercoated the swingarm, fork bottoms, wheels, engine covers, yokes, rear caliper, hangers etc.
The forks were revalved with a K-Tech SSK kit, flow control valves and springs. We fitted Nissin 4-pot calipers to replace the sticky 6-pots along
with custom Goodridge hoses, SBS discs, ASV levers, SBS HS pads, Valter Moto mirrors, Domino grips, Denali micro indicators, Active tailtidy and Nitron R3 3 way race shocks.
The engine was then treated to a full valve clearance service, a Kwick alternator chain tensioner kit, billet crankcase breather, Oberon clutch slave cylinder, Samco hoses, custom oil feed hose and the pair system was removed. We then fitted a Black Widow stainless system, Dynojet stage 3 kit, K&N filters and set it up on the Dyno.
As the customer preferred the look of a naked bike, we got Viv from V-Moto to fabricate an aluminium surround to mount the Koso clocks and GPS receiver along with an LED headlight, mounted on active mounts, and we fabricated brackets to hold the indicators.
Finally, the bike was finished off with a large quantity of black stainless Pro-Bolts that had been fitted throughout to compliment the look.