Dynojet Testing and Tuning Centre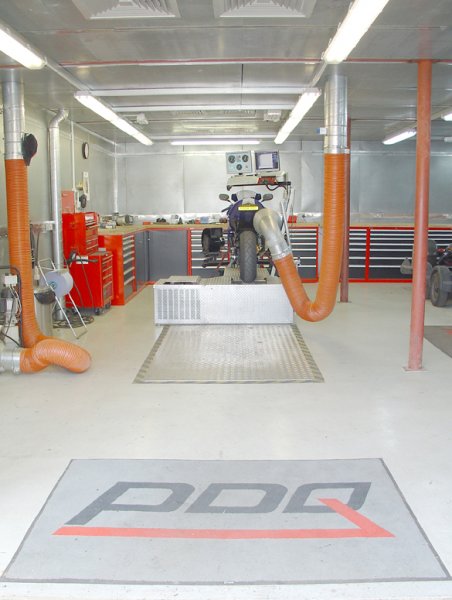 PDQ have been dyno testing and tuning bikes for over 25 years and were one of the first Dynojet motorcycle dyno centres in the UK. We are an authorised Dynojet Power Commander Tuning Centre and also a Yoshimura Performance Centre. Our dyno room is fully air conditioned for accurate and consistent results.
Alongside our Dynojet 250 Motorcycle Dyno we have a full size automotive inertia dyno and also a special bike engined car dyno (equipped with a custom made load control unit similar to the unit used on the motorcycle dyno). All dynos have fast and accurate air/fuel ratio testing hardware that works in conjunction with the WinPEP software to give the operators a real time read out on the screen and also enables an air/fuel graph to be produced along with the usual power/torque/RPM readings.
The Dynojet Load Control software provides us with the ability to control vehicle RPM or speed at any throttle position, thereby enabling our operator to optimise fuelling throughout the entire rev range. So whether you are tuing for road use, track days or racing, we will be happy to discuss your needs.
As well as regular performance tuning work with Dynojet Kits, Power Commanders and intake systems the Dynamometer allows us to quickly and accurately diagnose a wide range of running problems, by simulating road or track testing inside the dyno room.




PDQ is an Official Dynojet Power Commander Tuning Center
This means we can optimise the fuel and ignition mapping for your motorcycle with a Power Commander custom mapping session. Maps are specifically built to suit your exact vehicle specification for the best in performance and economy. And with the Bike, Car and BEC Dyno on site, we can cater for a large range of vehicles.
Bike engined cars
The BEC dyno is suitable for various small cars with motorcycle engines (Bike Engined Cars) using carburettors or fuel injection. Having a built in load control module enables us to hold the vehicle at specific RPM's and throttle openings while simulating 'on the road' conditions. This piece of equipment is vital for custom fuel injection mapping and diagnosing part throttle problems.
PDQ also stock various tuning parts suitable for bike engined cars including a wide range of K&N filters, Dynojet Power Commanders (for fuel injection adjustment), Jet Kits for carburettor engines and Barnett Racing Clutches.
Our Dyno Technician has many years experience tuning motorcycles, cars and bike engined cars.
Please call us on 01753 730043 for more information on our wide range of dyno testing and tuning services. We have decades of dyno experience and a modern, well equipped, purpose built dyno testing centre.